Experienced and Proven Wrongful Death Attorney Serving Orange County CA
The California Highway Patrol (CHP) reports that Orange County has one of the highest fatal accident rates in the State. Fatal accidents almost always lead to a wrongful death action on behalf of the person who was killed due to the negligence of another person. My name is Rivers J. Morrell, III and I serve the citizens of Orange County California from my offices located in:
Irvine Office
1920 Main Street
Suite 1000
Irvine, CA 92614
Phone: (949)305-1400
Mission Viejo Office
27201 Puerta Real
Suite 470
Mission Viejo, CA 92691
Phone: (949)305-1400
Each year, hundreds of families are left with the shock and grief that results from the unexpected loss of a beloved family member. I have handled thousands of wrongful death cases in my 40+ years of experience as an Orange County accident and injury attorney. Wrongful death cases are all about holding things up to the light and demonstrating that a productive and valuable member of society has been lost due to someone else's actions.
Causes of Fatal Accidents in Orange County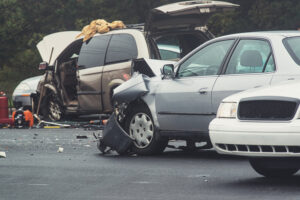 There are numerous causes of fatal accidents and wrongful death in Orange County California, including:
I will help you regardless of whom is responsible. It can be a company driver in a commercial vehicle, or simply someone driving home. It might be a public entity, even Orange County itself. Wrongful death cases can involve a single source of insurance, or multiple parties spread across the country. I will handle all of the legal details and apply all of my experience and expertise to ensure the best possible outcome in your case.
Contact a Proven Wrongful Death Lawyer Today
If you have lost someone you love in a fatal accident I invite you to review the strong recommendations of our clients and the legal industry and contact us or call 949-305-1400 to speak with me personally for a free consultation.  There is no cost to you out of pocket as we work on a contingency fee basis.
I will pursue justice on behalf of you and the family, and manage all of the legal issues so that you can focus on the family, and recovering from what has happened.