Representing People Injured In Slip and Fall Accidents In Mission Viejo Irvine and Orange County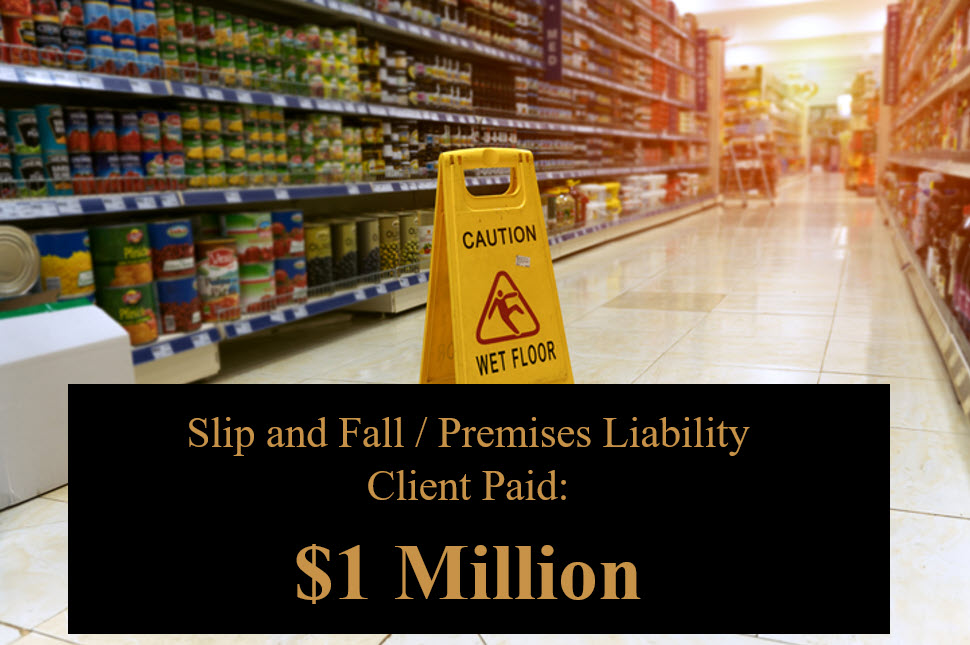 Premises liability is often associated with slip and fall or tripping accidents. All property owners have a responsibility to keep their premises reasonably safe from dangerous hazards.
When such a condition does cause a slip, trip or fall injury, the property owner could be liable for the damages.
Can we prove a store or property owner was negligent for your injuries?
Do you have a case?
If your slip and fall accident occurred in a store or as a result of a property owner's negligence, you may have a solid personal injury claim and be entitled to compensation. The Law Firm of Rivers Morrell helps clients who have been wrongfully injured on another's property.
3 Things You Need to Know About a Slip and Fall Injury Case:
If you are injured in a commercial business or store or a residential property like a condo or apartment building it is absolutely possible to hold the owner of the store or property financially responsible for your injuries, recovery, past, present and future medical bills, missed work (wages), as well as fair and just compensation for all you have been forced to endure along the way.
These cases require immediate preservation of important evidence such as video and work-related logs and maintenance records.  It is important to act quickly to preserve evidence.
You need to see a trauma physician in the first 48 hours after the accident, even if you don't think you are seriously injured.  Many injuries take days or weeks before symptoms appear.
You need an deserve answers.  Rivers Morrell is an experienced and proven premises liability and slip and fall attorney based in Mission Viejo and Irvine for over 40 years. Serving all of Orange County, Los Angeles and the Inland Empire, we invite you to review the strong recommendations of former clients and the legal industry and contact us or call to speak with me personally for a free, private and confidential consultation at (949)305-1400.
or Call for a Free Consultation Today


Slip And Fall Cases In Mission Viejo Irvine and Orange County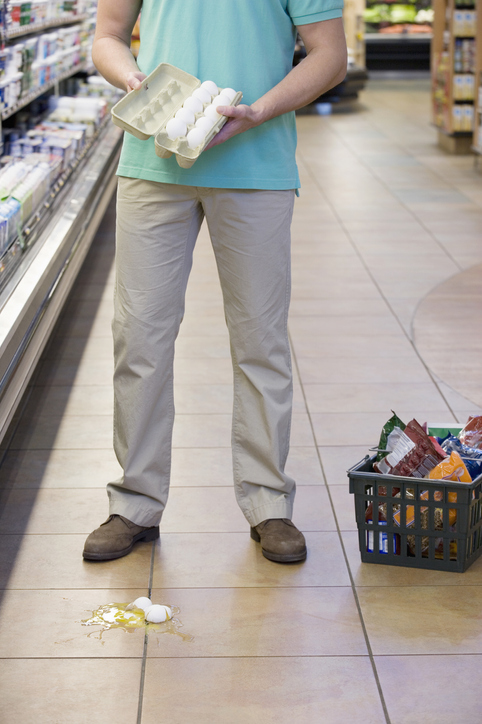 We represent slip and fall clients from our offices in Irvine and Mission Viejo and throughout Southern California. Slip and fall cases involve dangerous conditions when spills, leaks, uneven surfaces or other foreign substances are left on the floor or ground, posing a danger to others.
We have represented clients who slipped and fell at grocery stores, retail stores, apartment complexes and on commercial sidewalks walkways and parking lots. People can be injured for slipping and falling because of wet floors, slippery tiles, slick stairs, the lack of appropriate railing, falling merchandise, poor monitoring and maintenance, torn or uneven carpeting, greasy garage floors, muddy entrance ways or objects on the floor.
A slip and fall can result in serious injuries including but not limited to:
Other Types Of Premises Liability Cases
Besides slip and fall accidents, we handle a variety of premises liability cases such as:
ADA ramp falls: The Americans With Disabilities Act (ADA) sets forth requirements for the safety of ramps, stairways and entrances for those with disabilities. When property owners fail to comply with the rules and a handicap-related injury occurs, we represent the injured victim in a claim against the property owner.
Nursing Home Falls – unfortunately, many patients in nursing homes and skilled nursing facilities fall and suffer injuries each year.  If your loved one suffered an injury in one of these facilities we can hold them responsible and accountable.
Dog bites: Dog owners are liable for injuries to people and children such as bites, scratches, falls and attacks caused by their dogs. Usually the homeowners or renters insurance covers these types of claims.
Apartment complexes and commercial property: We handle a variety of premises liability cases involving residential or commercial property such as poorly lit halls and stairways, disrepair of stairs, porches or floors, building code violations, inadequate security or landscaping hazards.
No matter if the property owner is a private citizen or a public entity or municipality like a city or county, our law firm has the experience and skill necessary to help our injured clients seek redress for the harm suffered.
Orange County Premises Liability Lawyer – Free Consultation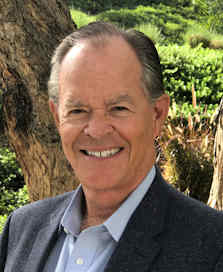 My name is Rivers Morrell, and I have more than 40 years of experience in premises liability, slip and fall and personal injury cases.  I invite you to review some of our past verdicts, the recommendations of our clients and the legal industry.  If you have been injured on another person's property, or in a business or retail environment I invite you to contact the Law Firm of Rivers Morrell, or call (949)305-1400 for a free consultation with an experienced slip and fall accident attorney.
There is no cost to you out of pocket as we work on a "contingency fee" basis. We answer our phones after business hours and on weekends. Evening and weekend appointments are available on an as-needed basis. If you've been injured and can't make it into one of our offices, we will come to you.