Los Angeles Elder Abuse and Injury Attorney
Has your loved one suffered LA nursing home abuse and neglect or an injury in a fall?  According to the US News and World Report there are almost 500 nursing homes in Los Angeles, and hundreds of assisted living and extended care facilities.  The US Centers for Disease Control (CDC) recently reported that there are 2 patient falls for every bed in a nursing home or skilled care facility across the US every year.  If your loved one is injured while in the care of a nursing home, assisted living or other care facility you can hold them responsible and financially liable under California law.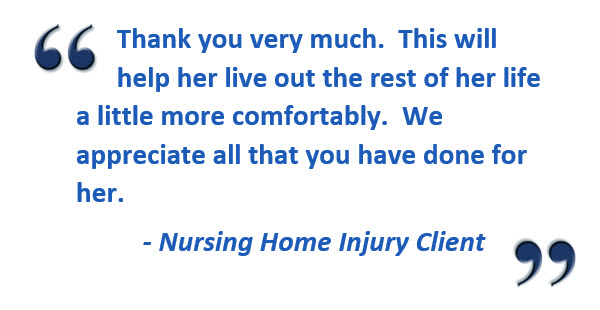 My name is Rivers Morrell, and I have more than 40 years of experience in injury cases here in Southern California.  The unfortunate reality is our elder family members and senior citizens are often not receiving the care and protection that is the standard of care under California law.  If your loved one is neglected, injured or loses their life in an accident at a Los Angeles nursing home or care facility you and your family have a claim.  I will hold the facility accountable for what has happened, and work to ensure that your elder loved one or your family receives fair and full compensation.
Two Patient Falls for Each Bed
The unfortunate reality is that many nursing home and assisted living facilities simply cannot maintain adequate staffing or the required number of nurses and medical professionals on hand.  This puts a tremendous burden on the facilities as they attempt to provide care for the elderly in their charge.  Falls can occur for many reasons.  In some cases, a fall will happen as a bed is being changed or during a trip to the rest room.  In others, a neglected patient may attempt to get themselves out of bed and fall on the way to the facilities.
When a senior falls the injuries can be quite severe.  Serious head injuries and traumatic brain injuries are common in these cases.  This is usually accompanied by broken bones, including a broken hip, pelvis, arm or elbow.  Our clients are quite upset with the nursing home or care facility.  They have put their trust in a nursing home for their loved one, and now an injury has occurred.  We take action to ensure that all medical costs, treatment and post-treatment accommodations are recovered, and that a full and fair result is achieved in your case.
Elder Neglect in a Los Angeles Nursing Home
In other cases the issue is neglect.  If your loved one is injured or suffers suffers LA nursing home abuse and neglect our law firm will seek full and fair compensation on their behalf.  Again, the aggravating factor is usually limited staffing and patients suffer as a result.  Watch for changes in your loved one's medication.  If there are new drugs added to their regimen, especially sedatives or anti-psychotics take note.  In many cases nursing homes and assisted care facilities have been known to increase the medication of patients in order to make them more compliant.  This allows them to make less trips to each patient's room.  The obvious result is neglect.
Signs of neglect include:
Wounds, bedsores, bruises or welts (especially around wrists and ankles which are signs of restraint)
Broken personal items in the room or damaged clothing
Torn or bloody clothing, blood on bedding or other signs of a struggle
Patient wanders off or is found in an area they should be in
Unusual complexion or pale, gaunt features
Complaints from the patient about yelling or abuse
Room much too hot or too cold
Another sign to look for is dehydration.  Some of the symptoms of dehydration include:
Sunken Eyes
Dry, itchy Skin
Rapid Heartbeat
Confusion or irritability, Lightheadedness or Dizzy Spells
Reduced Urinary Output or Dark Yellow Urine
Contact a Los Angeles Elder Abuse and Injury Lawyer
If your loved one is injured or suffers suffers LA nursing home abuse and neglect we invite you to contact us, or call for a free consultation at (949)305-1400.  There is no cost to your family out of pocket as we work on a contingency fee basis.  We will aggressively protect your loved one's interests and hold those responsible for injury or neglect financially accountable.