Accident and Injury attorney serving all of Orange County from offices in Irvine and Mission Viejo
Are you searching for an Orange County personal injury lawyer with proven skills and a strong track record of success?  If you have been injured due to the negligence of another party or a business here in Orange County I can help.  My name is Rivers Morrell and I have represented the residents of Orange County who have been injured in a car accident, slip and fall, pedestrian accident or STD transmission for more than 40 years.
Our offices handles almost every type of personal injury case including, but not limited to:
Learn more about your case from an experienced and proven car accident injury attorney based in Mission Viejo and Irvine for over 40 years.
Serving all of Orange County, Los Angeles and the Inland Empire, the Law Firm of Rivers J. Morrell is highly respected by insurance companies, his peers, the legal industry and his clients alike.
or Call for a Free Consultation Today
Orange County is Home to Many Accidents and Injuries Each Day
Orange County California is home to some of the busiest highways and roads in the nation. Just south of Los Angeles, Orange County is home to large cities such as Anaheim, Santa Ana and Irvine, as well as mid-sized cities such as Huntington Beach, Fullerton, Mission Viejo, San Clemente, San Juan Capistrano and the beach communities of Laguna Beach and Dana Point. Interstate 5 is the primary traffic artery through Orange County, but the area is densely populated and several congested highways and city streets lead to one of the highest accident and injury rates in the State of California.
My offices in Orange County are located at:
Irvine Office
1920 Main Street

Suite 1000
Irvine, CA 92614
Phone: (949)305-1400
Map and Directions
Mission Viejo Office
27201 Puerta Real
Suite 470
Mission Viejo, CA 92691
Phone: (949)305-1400
Map and Directions
Personal Injury Services in Orange County CA
You will work directly with me personally, and not be passed off to a junior attorney or staff associate. I promptly respond to my clients via cell phone, email or texting. You will appreciate my hands-on approach and the level of experience and expertise I bring to your case. I will do everything possible to help you to recover for your loss of income, medical expenses, suffering as well as any potential modifications to your home or vehicles as the result of a permanent injury.
Injured in Anaheim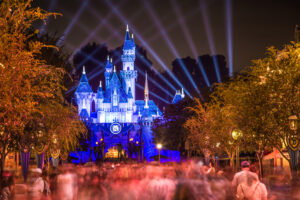 Anaheim is one of the largest cities in Orange County, with a population approaching 350,000. Anaheim is home to some of the nation's most popular entertainment attractions including Disneyland and the Anaheim Angels MLB team. In addition, it is located in a critical traffic corridor that connects the greater Los Angeles metropolitan area with San Diego.
Anaheim is crossed by I-5, the interstate highway connecting the two, and is bound on the east by the 57 Freeway known as the "Orange Freeway", and across the north by the highway 91 known as the "Riverside Freeway". These 3 high traffic thoroughfares are a constant source of accidents involving commercial trucks and delivery vehicles and the cars and motorcycles with whom they share the road.
According to the most recent CHP statistics, Anaheim is home to almost 3,000 injury accidents each year.  Anaheim ranks highest for the number of motorcycle injury accidents and pedestrian accidents in all of Orange County.  Anaheim is also the source of many of the bicycle injury accidents.
Injured in Huntington Beach
Huntington Beach is the fourth largest city in Orange County and the 16th largest in the State of California. The "Ocean Strand" that extends 8.5 miles along the beautiful coastline attracts more than 16 million beach visitors each year. The intersection of Beach Blvd. and Edinger Avenue sees 94,000 vehicles per day and over 250,000 vehicles per day pass on I-405. This might explain why Huntington Beach also has one of the highest vehicular accident with injury ratios in Orange County.
Injury related accidents are high for all categories including:
Cars
Trucks
Motorcycles
Bicycles
Pedestrians
There are more bicycle related accidents and injury incidents in Huntington Beach than anywhere else in Orange County.  Injury accidents involving cars and pedestrians rank as some of the highest in Orange County. The sheer volume of people and vehicles in such a relatively small area has translated to a high volume of injuries and wrongful death.
Proven and Experienced Irvine Personal Injury Attorney
Irvine is an affluent community which is home to many business owners, celebrities and professionals which have high expectations for themselves and those with whom they work.  While Irvine is home to many office and commercial properties such as the "Spectrum" it is also a bedroom community and home to upscale communities and rental units.  Irvine's classic park features a vintage carousel and a large anchored helium balloon which takes visitors into the sky for a view of the surroundings.
Irvine's many trails provide outdoor recreation for pedestrians and bicyclists alike.  The "Pretend City" children's museum allows kids to actively engage and imagine what it would be like to work and live in its post office, farm and cafe.
Irvine is consistently in the top 3 communities in Orange County for injury accidents, bicycle injuries and motorcycle accidents.  Thousands of motorists come through or into Irvine on the I-5 each day.
The I-5 and I-405 intersection is one of the busiest traffic points in all of Orange County.  Irvine is bordered by the 73 toll road, the 133, the 55 and routes 241 and 261.  These interstates and highways carry a lot of commercial traffic and trucks between Los Angeles and San Diego.
All of this automobile and commercial traffic results in thousands of injury accidents each year in Irvine.  Irvine's streets and roads account for some of the highest rates of injury to pedestrians and bicyclists in all of Orange County.
Newport Beach
Newport Beach is an affluent and thriving community on the coast of Orange County California. Although the population of Newport Beach is just under 100,000 it is estimated that 20,000 to 100,000 visitors come to the area each day throughout peak season. The beautiful harbor is home to more than 9,000 boats and it is surrounded by some of the most beautiful residences, shopping and dining venues and natural resources in the area. Located centrally between Los Angeles and San Diego, Newport Beach is a wonderful place to visit, live and work.
Newport Beach is known for the quality and excellence of surrounding facilities and associated service. The Law Firm of Rivers J. Morrell, III is highly recommended by the legal industry and has been selected as one of the top firms in the State of California by prestigious institutions such as Super Lawyers, Multi-Million Dollar Advocates and the National Academy of Personal Injury Attorneys. We are highly recommended by our peers, and are proud of the strong recommendations of hundreds of former clients.
Newport beach is home to some of the most beautiful beaches and architecture in Orange County.  There are many pedestrian, bicycle and motorcycle accidents in Newport Beach each year according to the most recent CHP accident statistics.
Santa Ana Injury Attorney
Rivers J. Morrell III is an experienced personal injury attorney serving those who are injured as a result of accidents due to the negligence of others in Santa Ana and Orange County California. Santa Ana is one of the largest cities in Orange County and serves as its county seat. The city is surrounded by busy freeways including the San Diego Freeway, Interstate 5, the Costa Mesa Highway, Route 55, the 405 freeway and Route 22.
The combination of these busy throughways and the large number of people who live and work in Santa Ana and those passing through on their way to Los Angeles or San Diego combines for a heavy volume of accidents that cause injuries.
Santa Ana joins Anaheim as the highest source of fatal and injury accidents across all of Orange County.  This is unfortunately also true for the number of those who are injured or lose their lives in DUI related accidents as well as bicycle and pedestrian injury accidents.
San Clemente and San Juan Capistrano Personal Injury Attorney
San Clemente is a beautiful city on the coast of the Pacific in the southern corner of Orange County. Known as the "Spanish Village By the Sea", San Clemente combines some of the best surfing in southern California on picturesque beaches with beautiful residential homes that line the sides of the foothills and mountains that rise up beside them. Located on the edge of Camp Pendleton, San Clemente is the entry point to Orange County with major traffic flowing on I-5 as it moves between Los Angeles and San Diego. Traffic can become quite congested, and the "start and stop" nature of California highway traffic can lead to multiple accidents and in some cases, serious injury.
San Clemente is also home to bus and rail transit, including the Metrolink and Amtrak train alternatives. Accidents that involve a train or bus can be quite severe, and those who are injured must promptly pursue their cases against a "public entity". California laws relating to recovering for your injuries against a public entity are quite limiting from a timeframe perspective, and it is important to speak with an experienced public entity injury attorney immediately to ensure proper resolution for your claim.
San Juan Capistrano is famous for it's mission where the swallows return each and every spring.  San Juan Capistrano is also home to California's oldest residential neighborhood, Los Rios.  The Serra Chapel in the Mission itself is the oldest at use building in the State.
Dog Bites and Attacks
San Clemente is an affluent community with many beautiful and large homes. There are many parks and beaches where its citizens take their dogs for recreation. In some cases, a dog can get loose or be startled resulting in a quick attack that leaves a person or child with tearing wounds on the face, arms, torso or legs. These types of bite wounds not only damage nerves and connective tissue such as ligaments and tendons, they tend to leave substantial scars when they heal requiring plastic surgery to correct. San Clemente homeowners have a strict liability when it comes to their pets, and I have successfully helped hundreds of families to recover the medical costs, therapy, plastic surgery expenses and counseling fees associated with healing from a dog attack.
Contact an Experienced Orange County Personal Injury Lawyer Today
I invite you to to review the strong recommendations of former clients and the legal industry and contact an experienced Orange County personal injury lawyer or call today for a free consultation at (949)305-1400 to speak with me personally or schedule an appointment.
There is no cost to you out of pocket as we work on a contingency fee basis. I will manage all of the legal details in your case so that you can focus on recovering from what has happened, and moving forward with your life.
Get Started!Don't Wait. Contact us today to get a FREE consultation.