.....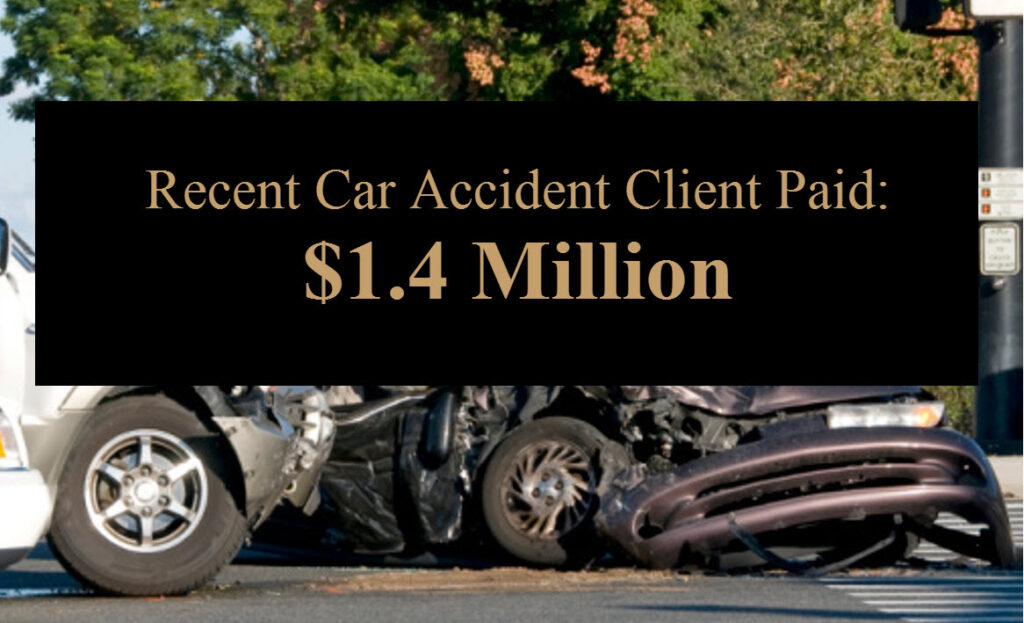 Are you searching for the most experienced Mission Viejo car accident lawyer to ensure the best possible outcome in your injury case?
What should you do if you are injured in a Mission Viejo car accident?
Why do you need an attorney for your personal injury claim?
How can an experienced trial attorney significantly increase the amount of compensation you receive for your personal injury claim?
Rivers Morrell has more than 40 years of experience as a personal injury attorney representing those who are injured in a car accident in Mission Viejo or anywhere in Southern California.  Have you or someone you love been injured in a car accident in Mission Viejo, Laguna Niguel or anywhere in Southern California?
or Call for a Free Consultation Today
What Should You Do if You are Injured in a Mission Viejo Car Accident?
See a doctor within 24 to 48 hours of the accident, even if you believe you aren't injured.  The forces in a car accident take a significant toll on the human body, even at slow speeds.
Injuries to the head, neck, back and spine can take weeks or even months to present any symptoms at all.  However, these injuries can impact your ability to work and the quality of your life for the years to come.
If you do not see a doctor within 48 hours of the accident you will not be able to present a successful claim for any resulting injuries down the road.
This is definitely a case of "better to be safe than sorry."  If you have been involved in a motor vehicle accident, even at slow speed, see a doctor for a thorough physical examination within 48 hours of the accident.
or Call for a Free Consultation Today
Why Do You Need an Attorney for your Personal Injury Claim
Rivers worked as defense counsel for almost all of the major insurance carriers during the first 20 years of his career.  This experience provides valuable insight for Mission Viejo car accident and injury victims.  Insurance companies are in business for one reason: to earn a profit.
The job of an insurance adjuster is to convince you to accept the lowest possible settlement for your injury claim in order to retain maximum profitability for their employer – the insurance company.
Insurance companies start with a low offer.  We have had many large cases which were ultimately resolved in favor of our clients for hundreds of thousands or over a million dollars where the original offer from the insurance company was in the low tens of thousands.  The table to the right shows the actual amount the insurance company originally offered in the case, and the amount we were able to ultimately achieve for our client.
They want you to settle your case as soon as possible, within 60 to 90 days of the accident.  This is NOT in your best interest.  It will take several months to learn the full extent of your injuries, an accurate understanding of the extent of all your past, present and future medical expenses and the impact they will have upon your life in the future.
The Law Firm of Rivers Morrell knows the tactics an insurance company will use to reduce the amount you are offered, and the laws which governs injury claims arising from a Mission Viejo car accident.
or Call for a Free Consultation Today
Experienced Trial Attorney Significantly Increase Your Personal Injury Compensation
The insurance companies are well aware of our proven, decades-long track record of successful trial outcomes.  They know we are experienced trial attorneys who will put our client's case before a jury if necessary to ensure they receive full and fair compensation for their injuries, lost wages and the pain and interruption of life associated with the trauma of having to endure their injuries and the challenges of recovery.
It may surprise you to learn insurance companies keep extensive records on every personal injury attorney.  They know which lawyers settle their cases quickly (for much less than their clients actually deserve) and which attorneys are prepared, able and willing to take a case to trial in order to achieve the best possible outcome for clients.
Insurance companies understand only one thing: risk. 
The greater the risk, the higher the amount they know they must pay.  There is no greater risk to an insurance company than the jury at a trial.  This is why the first question you should always ask a personal injury attorney is "How many cases have you taken to a successful verdict at trial, and what are the amounts of the verdicts you've achieved?"  Ask for specifics before you consider hiring an injury attorney.
What are the Leading Causes of a Mission Viejo Car Accident
Mission Viejo is a busy Orange County city and unfortunately there are thousands of car accidents each year which result in injury or loss of life.  Mission Viejo is located along Interstate 5 or the I-5 corridor in southern Orange County which touches the 73 toll at its southernmost point and Foothill Transportation Corridor Toll Road or the 241 in the North.  The busiest streets in Mission Viejo include:
Crown Valley Parkway (Near our Office)
Marguerite Parkway
Oso Parkway
La Paz Road
Alicia Parkway
Jeronimo Road
Felipe Road / Olympiad Road
The most recent reports provided by the California Highway Patrol show the leading causes of a Mission Viejo car accident include but are not limited to:
Unsafe Speed
Intersections and Turns
Improper Lane Change
Failure to Observe Traffic Lights and Signs
Failure to Yield the Right of Way
The most recent "California's Annual Report" published by the California Office of Traffic Safety alcohol and driving under the influence is still a factor in more than 25% of fatal traffic accidents across California and here in Mission Viejo.  Distracted driving and the use of a cell phone as well as accidents at intersections remain the greatest causes of concern for Mission Viejo drivers.
or Call for a Free Consultation Today
Mission Viejo Car Accident at an Intersection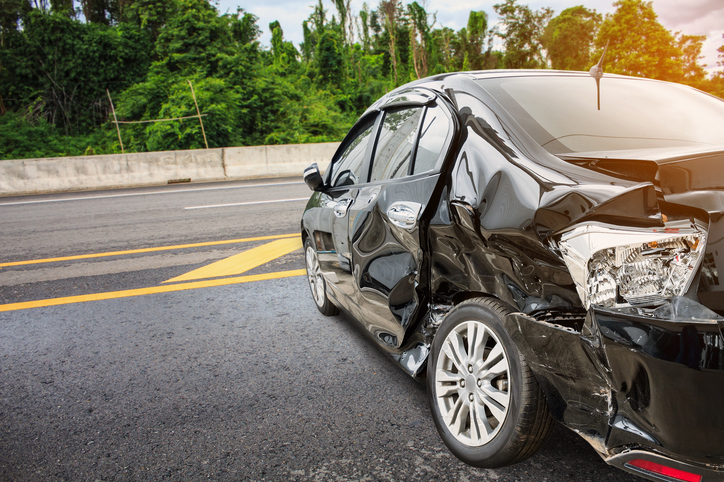 One of the major sources of a Mission Viejo car accident involves intersections and left hand turns.  Intersections represent the greatest risk to Mission Viejo drivers, especially when a car, truck or motorcycle is making a left turn.  There are a variety of reasons why collisions occur at Mission Viejo intersection, but the primary causes are speed and the failure to properly yield the right of way.  Accidents at an intersection involve tremendous forces to one of the least protected areas of most cars: the side.
Side impacts unleash severe forces on the spine and neck as the body violently shifts during impact.  The resulting damage to discs which are designed to protect your vertebrae may not actually present symptoms for several weeks.  We have had several clients over the years who basically felt ok after the initial accident, but were bedridden within a few weeks due to damage to the discs in their back or other soft tissue injury.
Head injury may occur as you come in contact with side supports, windows or other obstructions within the car.  Many Mission Viejo accident victims never lose consciousness yet suffer a mild brain injury which can take weeks or months to fully understand and diagnose.  The primary take away is this: visit the ER, urgent care or your primary physician within 24 to 48 hours of any car accident – especially if you think you are uninjured.
It is best to establish a medical baseline and make sure you are genuinely uninjured.  If you do not visit a doctor within the hours after an accident the insurance company has a legally valid reason to deny any insurance claim you may wish to raise in the future.
or Call for a Free Consultation Today
What is a "Personal Injury" Claim
Personal Injury includes civil wrongs and economic or non-economic damages to a person, or their property, reputation, or rights.  Usually, this involves injury or loss of life due to a Mission Viejo car accident or other motor vehicle accident or the negligence of another person or company.  We represent the personal injury claims of those who are injured in a Mission Viejo car accident and the families of those who lose a loved one in a fatal accident.  There is no cost out of pocket as we work on a contingency fee basis.
What Should You Look For In a Personal Injury Attorney?
Contact an Experienced and Proven Mission Viejo Car Accident Lawyer
Have you or a loved one been injured in a Mission Viejo car accident?  We invite you to review the recommendations of our clients, our peers and the legal industry and contact us or call (949) 305-1400 to speak personally with an experienced injury attorney for a free consultation. 
Our Mission Viejo Office is Conveniently Located at:
27201 Puerta Real Suite 470
Mission Viejo, CA 92691
Call for a Free Consultation:  (949) 305-1400
How Many Years Have You Been a Mission Viejo Car Accident Injury Attorney?
Over 40 years. I also have an office in Irvine.
What is the first thing to do after a motor vehicle accident in Mission Viejo?
See a doctor within 24 to 48 hours. If you aren't examined you will not be able to file an otherwise valid injury claim later. Many injuries take days or weeks before showing any symptoms.
Can you make a difference in how much money I receive for my claim?
Yes, not only the amount of money you receive but the amounts you will actually have to pay on your medical bills. We ensure you have full and fair compensation for what has happened so that you may recover and move forward with your life.
Why is it bad to settle a Mission Viejo car accident injury claim quickly?
Many injuries take months and even years to fully play out. I had a recent case where the insurance company had offered $150k. The client's condition worsened requiring a second surgery. The next offer was over half a million. Never, ever settle early and be wary of any injury lawyer who advertises how quickly they settle their cases.