Examples of Successful Premises Liability Cases
Our firm has handled many successful premises liability cases in Los Angeles, Orange County and the Inland Empire for more than 40 years.  Many attorneys won't even consider a "slip and fall" (premises liability) case because they believe they are far too difficult to prove and win.
Our most recent case resulted in $1 Million result for our client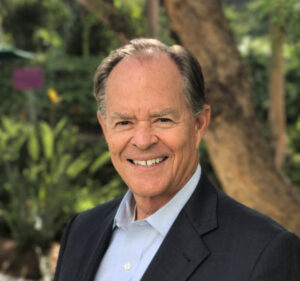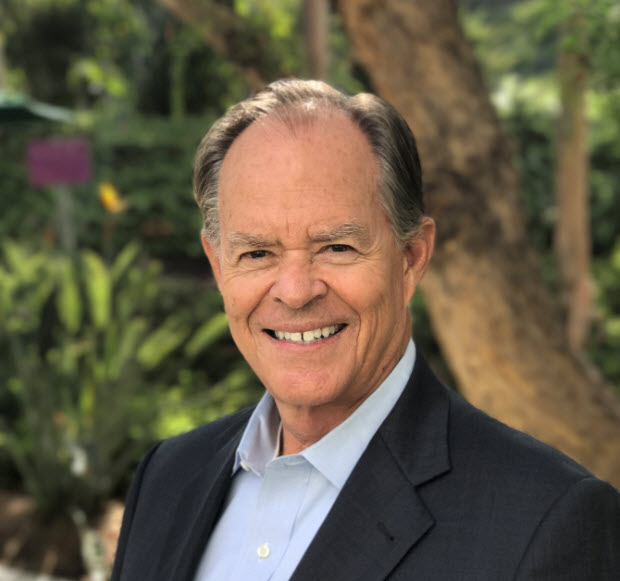 If your slip and fall accident occurred in a store or as a result of a property owner's negligence, you may have a solid personal injury claim and be entitled to compensation. The Law Firm of Rivers Morrell helps clients who have been wrongfully injured on another's property.
Rivers Morrell is an experienced and proven premises liability and slip and fall attorney based in Mission Viejo and Irvine for over 40 years. Serving all of Orange County, Los Angeles and the Inland Empire, we invite you to review the strong recommendations of former clients and the legal industry and contact us or call to speak with me personally for a free, private and confidential consultation at (949)305-1400.
or Call for a Free Consultation Today


After more than 40 years of experience in premises liability cases, also known as "slip and fall" cases, there are many ways people become injured due to a business owner's negligence:
Poor Application of Driveway Sealant Causes Injury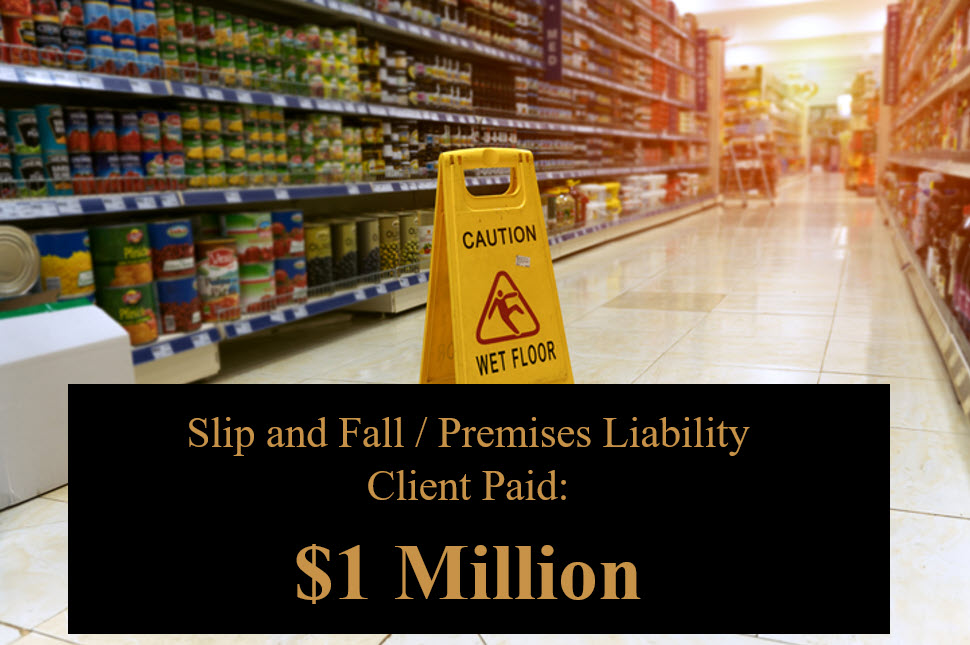 This case involved an insurance adjuster who had asked our office to represent her in her personal injury case. She lived in Mission Viejo. She had contracted with an interlocking paving company to have her driveway redone in interlocking pavers. The old concrete driveway was removed, and the new interlocking pavers were installed.

They had convinced her to have a sealer applied to the pavers, and claimed that this would make the pavers anti-skid, and not slippery. Two days after they had completed their job, she was walking to her car, from her front door, when she slipped and fell.
It was our position that the fall was due to the excessive slipperiness of the new driveway, and more than likely due to the sealer that they had applied. We immediately hired a "slip and fall" expert, who performed a "slip resistant test", to establish the Co-Efficient of Friction (COF) of the pavers. The COF was below industry standards, thereby making them unsafe.
Our client received a "Trimalleolar" ankle fracture and dislocation. They had to perform an Open Reduction and Internal Fixation (ORIF) of the fracture, under a general anesthetic. They put in tow 7 hole plates on each side of her ankle.
After the successful surgery she continued to have residuals, to include a limp, restricted range of motion, inability to wear high heels, difficulty walking, continuing pain, and other problems. She will develop premature arthritis, and will likely need another surgery when she is older. The defense had their own expert inspect the pavers, and he used a different test. The defense refused to accept any responsibility. After much discovery about the different types of tests, the case settled favorably in the mid 6 figures.
Handicap Ramp Causes Injury at Fullerton Gas Station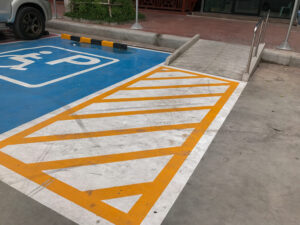 This slip and fall case occurred at a gas station located in the Fullerton area. Our client had stopped for gas, and had exited his vehicle. A handicap ramp had been built up from the lot to the front entry of the gas station office. As our client was walking up the ramp, he fell. Our client received some very significant injuries to his leg and knee. He fractured his femur, the large bone in the thigh, as well as his knee cap. There were complications in the recovery, and additional surgeries were required.
We hired an expert to inspect the ramp, and also to determine if it was up to code. As it turned out, the handicap ramp was not up to code. It was not build the way it was designed. There are a number of codes that apply to handicap ramps, and they have to deal with the ramp slope, the slope of the sides, etc. After a lot of depositions, the case settle on the court house steps in the high 6 figures.
Back Injury due to Premises Liability Negligence at National Department Store
This is an unusual premises liability case. It happened at a well-known national Department Store, located in Aliso Viejo. Our client, who resided in Laguna Niguel, was entering the store. One of the automatic front doors was partially open, but in the wrong direction. She entered thru the only door that was available, and as she was entering the door swung shut on her, injuring her back. She had complaints to her neck, shoulders, and back. She initially had physical therapy, and also had H-Wave treatment. She also received a facet block, and low back injections (LESI-Lumbar Epidural Steroid Injections). These all helped, but did not completely resolve her injuries.
She was then seen by a neurosurgeon, who recommended an EMG. An additional MRI was performed, and the treating doctor noted that there was disc extrusion at L5-S1. He also noted a disc protrusion at C5-C6. The treating neurosurgeon then performed a micro-discectomy in the low back. Thereafter additional injections were performed.
The defense took the view that there was nothing wrong with the door, and even if there was, they did not have notice of the problem. They also claimed that much of the treatment was unnecessary. We took a number of depositions of the employees, and proved that they were aware of the problem resulting in premises liability negligence. After refusing to offer any money, the case eventually settled favorably for the client, in the mid 6 figures.
Shattered Knee Cap and Injuries in National Grocery Chain
This slip and fall accident occurred in a well-known, national chain of grocery stores. This one was located in Costa Mesa, in Orange County, California. The client was from out of state, and was visiting her daughter, who also lived in Costa Mesa. Our client went shopping at the grocery store, and while walking down one of the aisles, she slipped and fell. She fractured her knee cap. She was taken by ambulance to the hospital, and then was flown back home, where they performed surgery on her knee.
This required an Open Reduction Internal Fixation (ORIF) of the knee. The knee cap had been shatter into about 6 pieces. They had to use a wire, and screws to put the knee cap back together. After this was done, months later there was a problem, and they had to go back in and remove the wire. They also removed some cartilage that had built up. The doctor did not get all of the wire out, and the client was advised to have a third surgery. As with all slip and falls, these cases are very, very difficult, and 80% of them end up with a defense verdict. The grocery store chain refused to accept responsibility.
The video (almost all grocery stores video tape the entire store), appeared to show that the item that caused the client to fall had been dropped by a young child just minutes before the fall. If that was the case, then we would have no case. However, we did stop there. We took a number of depositions of the employees. They testified that they were supposed to dry mop/sweep each aisle every 30 to 60 minutes.
We looked at the video for the prior 2 hours of aisle, and the adjacent aisles. They showed that they had not done what they were supposed to do. We also secured and inspected the "sweep sheets". They were not maintained as they should have been. The defense literally offered nothing at the first mediation. Eventually the case settled favorably for the client in the mid 6 figures.
Man Injures Knee in Fall at Work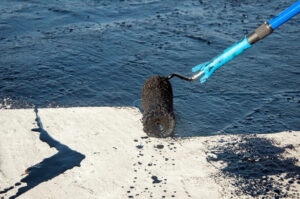 This was another difficult premises liability case. It happened at a truck storage facility located in Long Beach. The client was a truck driver who operated out of the truck facility. He lived in the Foothill Ranch area, in Orange County. After he had completed his route that day, he used one of the "trailer" bathrooms. While exiting the bathroom he slipped and fell. The bathroom was poorly maintained, and had a number of other issues. As a result of the fall, he tore the meniscus in his knee. Surgery was performed, and they removed about 60% of the meniscus. He had a prior knee replacement on the other knee. This new injury caused him not to be able to work for a long time, during his recovery. He had to think about another career because of the stress put on the knee. He suffered psychologically, and began to have heart problems as a result.
Again, as in all of these premises liability cases, the defense maintained that they were not responsible. We took a number of depositions, including the maintenance people, the staff, and the owner of the facility. They did not make good witnesses. They did not have any documents to prove what they claimed they did, or the documents were not properly completed. Their clean up "check lists", and their "sweep sheets" were either missing, or poorly kept. Again, there was no offer at the outset, but after all of this discovery, the case settled at a mediation to the satisfaction of the client, into the mid 6 figures.
Contact a Premises Liability Lawyer with more than 40 Years of Experience and Expertise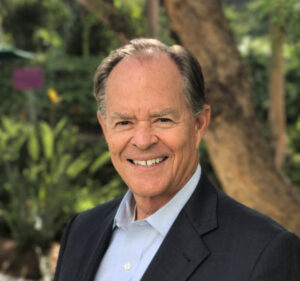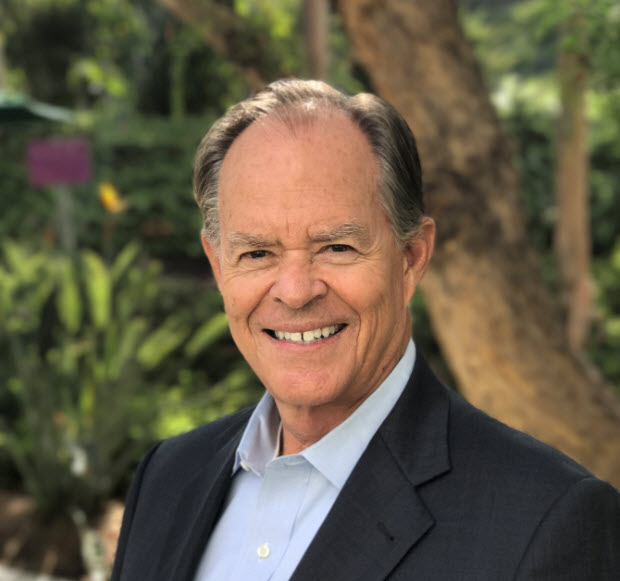 My name is Rivers Morrell, and after 40+ years of experience in accidents and injuries such as premises liability I can tell you that these cases are hard fought by insurance companies.  I worked for the major insurance carriers for the first 20 years of my career, and I know their tactics in these cases.  My extensive success at trial and the recognition of the legal industry tell the adjusters and their legal team that I am skilled and will take them to trial to hold them accountable on behalf of my client.  This is why I am able to achieve the best possible results in your case, and why I invite you review the recommendations of our clients and the legal industry and contact us or call (949)305-1400 for a free consultation.