LA STD Attorney with 40+ Years of Experience
Los Angeles HPV transmission lawyer Rivers Morrell helps to hold those who transmit an STD financially accountable for their actions.  According to the Centers for Disease Control (CDC), Los Angeles is experiencing a rapid rise in the number of STD cases including HPV reported annually.
The past three years have brought a significant increase in the percentage of LA HPV infections, and this can be a serious health concern for our citizens, especially women.  HPV can increase your risk of contracting several forms of cancer, especially cervical cancer.  The majority of cervical cancer cases are caused by two strains of HPV: HPV-16 or HPV-18.  The good news is there is genuine hope for those who seek treatment for HPV, and new medications are being developed to combat these developments.
My name is Rivers Morrell and I have more than 40 years of proven experience and success in cases like yours.  If you were transmitted an STD by a celebrity, athlete, business owner, professional, executive, clergy or any other substantial individual, I can help.
Helping my clients to move from a place of hopelessness to a place of empowerment is one of the most important and fulfilling aspects of my work as an STD transmission civil attorney.  My clients enjoy the easy, direct access to me through texts, emails and cell phone calls – or a visit to my offices.  They appreciate the manner with which I protect their dignity and privacy, while resolving their case to provide the financial resources needed to manage the impact of herpes and move forward positively with their life.
I invite you to review the strong recommendations of our clients and the legal industry as well as the successful verdicts and settlements I have achieved at trial on behalf of my clients, and
or Call for a Free, Private and Confidential Consultation Today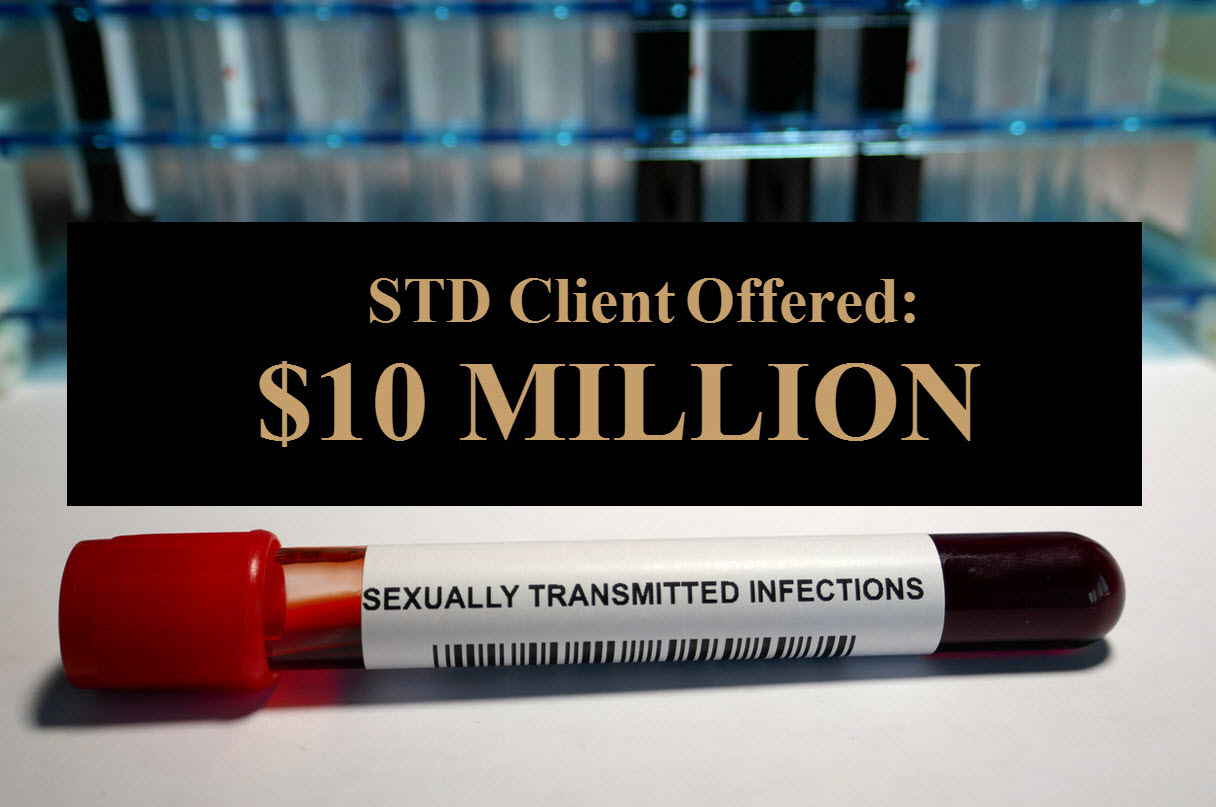 In California, as in most states across the US, it is a violation of civil laws to knowingly expose an intimate partner to a Sexually Transmitted Disease (STD) such as HPV without providing advance warning prior to sexual contact.  If you have received HPV or another STD from someone of financial substance in Los Angeles without advance warning, I can hold them accountable.
Hear From Two Actual Clients About Their Journey Through STD Transmission
These are genuine real life clients (not actors) who wanted to share their stories to help others who are facing questions regarding STD transmission, and why it is important to seek help:
My name is Rivers Morrell, and after more than 40 years of experience as an Los Angeles HPV transmission attorney here in Southern California I can tell you that there is absolutely hope for those who have been given HPV by an intimate partner without advance warning.  I invite you to review the words and recommendations of my STD clients.  There is genuine reason for hope, and a path forward that will empower you to live a full and happy life.  Our work together will provide the resources to ensure that you have the ongoing medical care, medications, vaccinations and support required to manage HPV and regain control over your future.
Private, Confidential and Free Consultation for HPV Transmission in LA
Hope begins with a confidential, private and free consultation at (949)305-1400.  I invite you to call or contact me personally to learn about the process and how our work together will hold the responsible party financially accountable.  I know from speaking with several STD clients that you are dealing with powerful emotions and fears.  You may feel hopeless, afraid and concerned about how you will meet the person of your dreams now that you have HPV.  We will get through this together.
We will work to recover the resources required for your medical care and medications as well as emotional support and compensation for the fear and anguish you've been forced to endure.  You will not be named publicly or in court documents, and I do everything possible to manage things quietly and effectively.
An Experienced Wrongful STD Transmission Attorney
My former clients have written:
"I just wanted to thank you again for all of the work you have been doing. You are what I would imagine a super hero of attorneys would be like. You treated me like a person from day one and never judged me."
"From my first contact with Rivers, he was compassionate, kind and completely honest about the merits of the case. He explained the challenges that could arise, yet was confident I had a good case against the individual who had wronged me. The evidence to support this case was intimate and sensitive. Rivers was consistent in handling it with the utmost respect and compassion. He responded very promptly to my phone calls and emails answering all of my questions thoroughly. He deposed the individual I was suing as professionally and skillfully as one could imagine. The person's defense was left in shambles thanks to Rivers excellent inquiries during the deposition."
"You and your staff are extremely welcoming.  After I called yesterday I realized I may get what I was praying for.  I'm not looking for a pot of gold, but some way to live my life as a single woman."
If you have received HPV without advance warning from a person of financial substance in Los Angeles, Orange County, Riverside County or anywhere in California I can help.  You deserve to have the resources required to deal with this and move forward with your life.
Learn More From a Skilled Lawyer Who Has Achieved Success in Los Angeles HPV Cases
If you have been infected with HPV by a partner who knowingly engaged in sexual contact with you without telling you that he or she had HPV, take action immediately. There are strict time constraints on when you can file these types of cases. The sooner my firm becomes involved, the more evidence can be preserved.
The legal statute of limitations in these cases is short, and begins at the time you became aware that you have HPV. It is important to act immediately to preserve evidence, and to hold the person who gave you this STD responsible. Call (949)305-1400 to speak with me personally for a free, private and confidential consultation or contact me to schedule a free initial consultation.
Whether you were given HPV by a private citizen, celebrity, athlete or another individual, we are committed to upholding the highest standards of confidentiality.